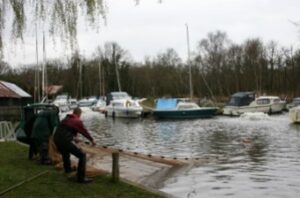 The after-effects of Hurricane Gonzalez were a stark reminder of why tidal surges are a key issue for the Broads Angling Strategy. Put simply, when salt water is pushed up the tidal rivers during surges, it can trap and kill freshwater fish in minutes. Sadly this last week we saw the loss of many thousands of fish at Acle, Upton, Hardley and Langley.
However, thanks to projects currently underway as a result of the Broads Angling Strategy and the ongoing work of the Fisheries Team at the Environment Agency, we are gaining a much better understanding of what happens during these surges.
The EA had completed the routine hydro acoustic fisheries surveys of the Broads rivers just before the storm, which provides a baseline of fish numbers and distribution at this time of year. Fisheries officers are now hoping to undertake additional hydro acoustic fish surveys of the tidal rivers in the next few days. This should provide a better picture of the possible extent of fish losses and a measure of how many fish may have been displaced further upstream, ahead of danger.
Volunteer anglers from the Pike Anglers Club of Great Britain and BASG have again been out on the ground during the storms, helping the EA to monitor the extent of salt water incursion up the rivers, alongside checking for signs of dead and distressed fish. The volunteers were using salt water monitoring equipment that was contributed using rod licence funding by the Environment Agency Fisheries Team.
The additional data and information obtained by angling volunteers, coupled with reports from anglers to the EA's incident hotline, will be invaluable in helping Environment Agency Fisheries officers to assess the impacts of tidal surges on fish stocks and the Broads fishery resource. In turn this should help to secure funding, resources and projects to protect more fish in the future.
Articles from the EDP and ITV coverage are available on the links below.
http://www.edp24.co.uk/news/environment/recent_storms_kill_thousands_of_fish_in_the_norfolk_and_suffolk_broads_1_3820514
http://www.itv.com/news/anglia/2014-10-23/25-000-fish-killed-on-norfolk-and-suffolk-broads/