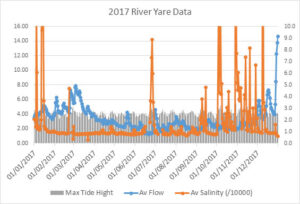 We have undertaking some analysis on the potential linkages to flow, tides and salinity levels on the river Yare.  Many thanks to Simon Slater for undertaking this.
This takes Salinity measurement using Conductivity readings and tidal river levels from the Environment Agency continuous monitor point at Cantley, River Yare Grid Reference TG3833103436
It also uses flow measurement from the River Wensum at Costessey Mill and combines the data into a single timeline for 2017-18 period.
Conductivity is measured in microsiemens per centimetre (µs/cm). The conductivity of rivers generally ranges from 50 to 1500 µs/cm. Rivers supporting good aquatic life have a range between 150 and 500 µs/cm. Conductivity outside this range could indicate that the water is not suitable for certain species.
It's not possible to directly link freshwater flows to increase salinity levels, but it demonstrates the complexity of the science and hydrology. This analysis has been input into a PhD study undertaken by the UEA on increasing salinity and climate change, which completes in 2020.
ITV reported 25,000 fish killed on Norfolk and Suffolk Broads
Thousands of fish have died and thousands more are at risk after Tuesday's storm tides sent seawater flooding into our rivers. Environment officials are working to calculate the damage done to the sensitive Broads system in Norfolk and Suffolk
https://www.itv.com/news/anglia/2014-10-23/25-000-fish-killed-on-norfolk-and-suffolk-broads/