The Broads has miles of bank space for anglers, but to enjoy the full potential of this fishing wonderland a boat is an asset.
We have various boat hirers and some clubs who on joining can supply boats, so the area is yours to explore. So before you get involved with tactics and rigs spare some time to consider your safety.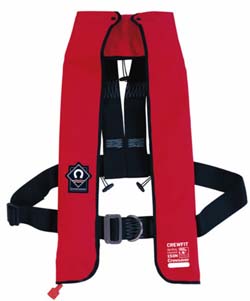 A life jacket is a must have, not a buoyancy aid but a life jacket, there is a difference. In winter experienced anglers may wear a life jacket and a flotation suit as well.
Also it is a good idea to have your life jacket on before even stepping onto  a boat, lots of accidents have happened on the jetty! It is also worth remembering that it is always colder on the water, so have some spare clothes on board just in case.
Some waters only allow electric outboards or good old fashioned oar power, still make sure you have oars on board in case of battery or outboard malfunction and you should always have two forms of propulsion even if it is the strength of your back!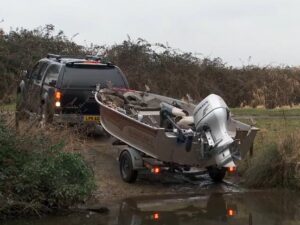 So we are nearly sorted out, just one last concern. If you do end up in the water how do you get back in the boat? It isn't too hard in summer if you have a boat partner, in winter it is a lot harder and very difficult if you are on your own. A simple aid is a rope with two loops tied in it secured to the boat. The loops will fit your welly clad feet and allow you to lever yourself into the boat. Secure it where you can get to it safely, not trailing beside the outboard! Until you get your sea legs try to keep standing up in a boat to a minimum. The Broads will entice you to cruise around the next bend to find the perfect swim, so make sure you have enough fuel to get back. On arrival at the perfect swim we hope you have remembered the anchors and sufficient rope to hold you in place?
Speaking of that rope it is a perfect thing to trip over so keep the rope and boat tidy of all trip hazards. Try not to be too tempted to stay late at your favoured swim, the journey back in darkness is a lot more dangerous and if it is a hire craft you probably wont be insured.
The Broads has speed limits and one thing the novice soon realises is the lack of brakes on a boat, so please think about your course and other water users.
Boat fishing will add another dimension to your fishing but if you have any reservations go out with an experienced boater first. It really is better to learn from the experienced than learning from experience in this case. The PAC and other clubs will do all they can to help you on your way to becoming a safe and productive boat angler.
The Broads Authority also has some useful guides on angling and on boat safety on the following links.
http://www.broads-authority.gov.uk/__data/assets/pdf_file/0018/408051/Angling-safety.pdf
http://www.broads-authority.gov.uk/__data/assets/pdf_file/0019/408052/Winter-safety.pdf