Wensum Working Group Meeting 4th Aug 2020
Matters Arising – None
This was a meeting focused on the ecology invertebrate group looking at establishing a long term monitoring and alert scheme for the River Wensum
Attendees
David Harper, Geoff Philipps, Dennis Willis, Roger Gibbons & Kelvin Allen
The group formed from the Wensum Partnership Workshop and agreed milestone actions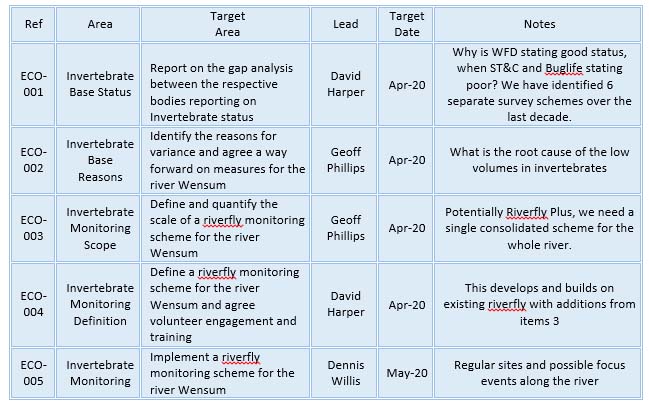 The meeting reviewed progress to date amidst the COVID-19 restrictions.
Item 1 is ongoing and is currently subject to a report being written by Daniel Mills the recently appointed Ecologist within the EA. It is evident that much that surveys have been undertaken across various teams, the indices used can greatly influence the underlying results. This needs further review once the report is available. This report was released on the 7th August and is available here. Wensum Monitoring Report – July 2020 – DM
Item 2 is still ongoing and needs more recent data to understand the variance and issues highlighted from item 1.
Item 3, some sound progress has been made in bringing together volunteers. Currently there are 9 volunteers supported by David and Geoff. Covid-19 has impacted on the ability to sign off the accreditation of these people, as well has providing David with the accreditation as a riverfly trainer himself. Sampling is taking place with supporting use of zoom conferences and shared microscope imagery, with additional support from Dan Hoare (Norfolk County Biological Recorder for freshwater invertebrates) and Chris Adams (EA-retired)
I video produced by the Hawk and Owl Trust at Sculthorpe Moor talks us through Riverfly, all mentored by our man David Harper.
Hawk and Owl; Trust Talk abiout Wensum Riverffly
Item 5  Dennis agreed to investigate new training requirements. We have identified the locations for undertaking riverfly along the catchment.
Location
WWG Resourced
S&TC and Buglife Location
River Tat at Tatteshall Bridge
Yes
River Wensum upstream of the Tat conveyance
Yes
River Wensum at Sculthorpe
Yes
Previous site resurrected
River Wensum at Bintree
No
Previous site up to 2019. Sadly support lapsed
River Wensum at Swanton Morley
Yes
Previous and ongoing site (since 2011)
River Wensum at Sparham Hall
Yes
New site
River Wensum at Lyng

(Sparham Pools)

Yes
Previous site resurrected
River Wensum at Lenwade
Yes
New Site. This site sampled bi-annually by Environment Agency.
River Wensum at Blackwater conveyance
No
River Wensum at Taverham
No
We understand that S&TC are considering a further study using Smartriver assessment on the Wensum. Although disappointed they haven't approached the partnership to discuss these plans, following last year's vast media campaign by S&TC on invertebrate health or seemingly lack of it. We explained we were forming the Wensum Partnership to resolve the underlying issues with all its partners and invited S&TC to join.
The potential damage to our volunteer base needs to be considered if further one off consultants turn up for yet another report, which although headline making, doesn't resolve the issues facing the river.
That said if Smart Rivers addressed specific areas where restoration has occurred and took metrics to measure the values and success of the restoration, this would show that issues like silt ingress are constraining costly restoration works which appear only have short term limited value.
Regards
Kelvin
Kelvin Allen
Chair WWG