Wensum Stakeholder Workshop and Exhibition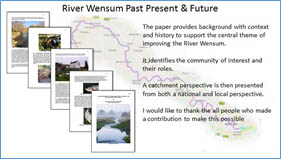 After two years of effort and much discussion, we have set a date to bring all the stakeholders together to agree a new governance structure to support the river and its challenges. The work in bringing together the Wensum Past Present and Future report, led us to believe anglers alone can't resolve the rivers challenges. This is all about working together for the better good. .
River Wensum Stakeholder Workshop 8th Oct 2019
Bawdeswell Village Hall , Reepham Road, Bawdeswell,  Norfolk, NR20 4RU
10:30     Wensum: Past, Present & Future Exhibition with Evidence, Gallery & Coffee
11:30     Workshop starts
13:00     Lunch
14:00     Group Syndicates
16:00     Close
Attending?  Please book you availability using this link:
https://www.eventbrite.co.uk/e/wensum-stakeholders-workshop-tickets-67205727139
Drop In Exhibition.  An exhibition of artwork, articles and reference material from the Wensum will be available for the public to view throughout the day in the Activities room, as a public drop in centre.
Workshop Arrangements.
The Workshop will be held in the Main Hall.  Delegates will join structured themed groups, aligned to existing activities including morphology, flow, diffuse pollution, point source pollution, fisheries, invertebrates, and monitoring.
The day will commence with an introduction to the proposed Catchment Based approach.  The afternoon session will allow delegates, in groups, to contribute proposals and ideas regarding Project Governance, Objectives and Measurable Outcomes.
For reference, the River Wensum: Past, Present and Future paper and proposals circulated in June 2019 for consultation in July 2019 are available here.
Stakeholder Engagement is Key.  For the day to achieve most benefit, engagement and representation from across all stakeholders is essential.  The stakeholder community has clearly spent much effort in the previous decade on the River Wensum with varied levels of success in making improvements in addressing Water Framework Directive issues.  This a rare chance to make a difference in creating change in how the river is managed going forward to sustain what is, in our opinion, the East of England's most precious river.
In Summary.  We look forward in seeing either yourself and/or a representative from your organisation on the 8th Oct 2019. Please book your place via the following link: https://www.eventbrite.co.uk/e/wensum-stakeholders-workshop-tickets-67205727139
Kind Regards,
Kelvin & Cass
Kelvin Allen Chair Wensum Working Group
Cass Singleton Member Wensum Working Group