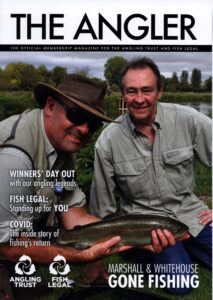 Much has been happening since my last post back in August on Water needs and balances.
The Angling Trust has been in the media on this subject and have launched a campaign called anglers against pollution last week. https://anglingtrust.net/get-involved/anglers-against-pollution/
I raised this a couple of weeks back on the subject of how the Broadland Rivers are to support the planned 40,000 homes around Norwich, let alone how the Wensum has capacity to supply these. Nobody has any answers strangely!
Our local campaign with the EA and NE on Hoveton moved to new levels, with the great support from across the Angling Trust and Fish Legal. The story features a whole page in the recent annual "The Angler" publication from the Angling Trust on page 53, replicated below.
Whilst George Graham the Chairman of Fish Legal makes reference the case in his opening statement, which is about to enter into Judicial Review at the high court.
These are challenging times, for us all as we battle through the pandemic. Broads angling needs a secured future and with the likes of the key Bream spawning grounds being potentially lost through the actions of Natural England and would you believe supported by the likes of the Environment Agency, who are supposed to protect fish and our fishery interests.
We must come together to secure our future and the Broads Angling we so dearly love. I will be writing to you all with a personal request from the Board of Directors to support our cause with a call to action on branding and marketing the Broads angling true value, as we look at a new era for the Broads.
That's all for now
Kelvin