New 2022 Season
If you're Broads Angler, its that time of year again for what we know as the glorious 16th when the closed fishing season opens on our rivers and Broads.
What will this season bring, it's what many of us look forward to, whether it's a personal best specimen, your biggest overcall catch or winning one of the many angling competitions held across the Broads.
They all bring that special buzz to us anglers and more importantly undertaken in wonderful surroundings.
HGB Monitoring Plan
The Environment Agency presented their proposed monitoring plan to assess the impact of the barriers isolating Hoveton Great Broad, planned for installation later this year. Basically isolating the vital spawning ground for Bream across the Northern Broads.
We have objected to this in the strongest terms, as any monitoring needs to be assessed against a known defined baseline and use the best techniques available, rather than what you can achieve within your resources.
This jeopardises the whole Northern Broads ecology as cyprid fish play such an important part of the whole food chain and it's what makes the Broads so special.
Wensum Road PhD
As posted successfully across our media channels, our Video Blog with Calham from Nottingham University undertaking some very in-depth studies on the Wensum.  Take a look at our Face Book page for this fascinating clip and worrying findings on the Wensum.
Climate Central Report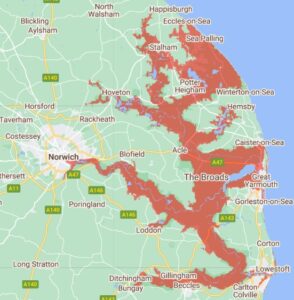 What future lies for the Broads and other low lying areas in the UK, let alone whole countries elsewhere in the world.  The latest predictions from the Climate Central group makes some  interesting viewing, when you look at predictions as soon as 2030 up to 2100.
Is this taking the worst extreme case to make a headline, or is it a rude awaking for the Broads and its people.
But what is the potential for this happening?  Is it 1:200 or as some believe less than 1:20. What's clear is that this is the worst-case scenario.
We have all seen the misery flooding causes in recent times and I have stated many times, in low lying areas like the Broads managing water is a real challenge when you just have too much, either through rainfall or increasingly from a rising North Sea.
Perhaps if the statutory agencies could define the risks a little more, we could all understand what measures are needed to at least sustain what we have for the next decade or two.
Let alone the huge inward investment if you combine the total tourism investment for the next decade or two now seemingly at risk. It could potentially stop much of this in the immediate future. With the Broads Authority seemingly more disconnected than ever from its stakeholders and Broads Futures looking at the strategic long term, there needs a platform to ensure these combined voices can be heard on this issue now.
Line Recycling Scheme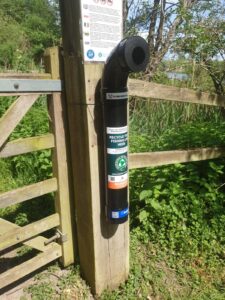 Moving onto the here and now, BASG has received £750 from Love the Broads to install 35 Line Recycling Bins across the Broads and a further £500 from the Post Code Lottery
These bins form part of the National Line Recycling Scheme and is the largest single deployment in the UK.
This was brought about following some issues within Hoveton with discarded line and entanglement with birds which reside in the area in great numbers, attracted by unnatural wholesale feeding by the general public.   4 of these bins are to be installed within the Hoveton & Wroxham popular angling areas.
These bins by themselves won't resolve the issues unless the public including anglers give respect to not only wildlife, but all users of the Broads, let alone the growing exposure of micro plastics.
None of us want to see wildlife entangled in line, so please take care and depose of any line responsibly.
Sustainability
I've stated on many occasions in what is the UK's largest inland natural fishery, is it sustainable in its current form. We have just been informed of the unsuccessful outcome of a grant to scope the feasibility of introducing some form of a Broads Angling Permit Scheme. A real disappointment after lots of hard work earlier this year and where this leaves us.
We have migrated members onto the bespoke angling club solution clubmate last week, look out for the email.
We are always looking for people to help get this back on a sustainable footing, with new ideas and a little time to spare. Drop us a line on [email protected]
Tight lines for the 2022 season
Kelvin
Below is a new format video blog talking about the issues above with Duncan & Kelvin on the bank at Postwick filmed earlier this month.