What is the average winter consumption of cormorants across the Northern Broads and how why is it reliant annual bream recruitment from HGB?
We have explained previously the overwhelming evidence and science supporting the role Hoveton Great Broad has in the annual spawning and migration of Bream across the wider Bure Catchment.
One of the consequences of such fish densities, which migrate and live right across the catchment is that they support a whole range of predatory species sustaining a wide range of ecology's that the Broads is so famous for..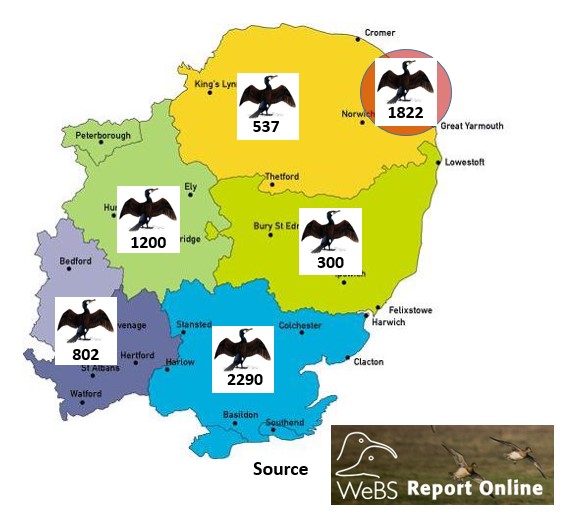 As can be seen above from data collated from the WeBS online report which collates bird species counts for the last 5 years for the UK.
When looking at cormorant overwintering counts and grouped by county, Norfolk has the highest population in East Anglia and when broken down the Broads Bure Catchment holds the greatest volume of birds.
It's no surprise that given the relative fish density the catchment holds, that predatory birds are attracted to this.
Indeed given that on average a cormorant consumes 0.5kg of fish per day over the winter, then this is an annual consumption of an estimated 130 metric tonnes of fish.
See Table 1 below
So the wider ecology of many bird species and manuals right across the Bure Catchment are intrinsically linked to the cyprinid fish densities.
Take away the spawning area and these fish will clearly be unsustainable in the medium term and the wider consequences to the natural ecology of the Broads will be broken. Another sound reason not to isolate and interfere with nature.
Table 1