On Saturday 24th July 2021 seven individuals including local anglers and conservationists were successfully trained in the safe methods of collecting freshwater invertebrates from the bed of a watercourse as part of the Riverfly Partnership project (https://www.riverflies.org). The individuals had previously achieved to a competent standard a certificate of achievement from an online theoretical course and then alongside the River Wensum the practical part of the training was completed. The project's aims are to identify invertebrates from eight different groups and from which provides a guide to the health of the watercourse. These individuals can now, in conjunction with Riverflies, establish locations throughout Norfolk and monitor the health of any watercourse. At the workshop seven from the eight groups of invertebrates were collected from the river and identified.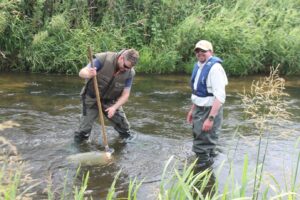 The  workshop was established and grant funded through the Broads Catchment Partnership in conjunction with the Wensum Working Group team of the Broads Angling Services Group  using Postcode Lottery funding.  It forms the initial phase of establishing citizen science monitoring across the Wensum Catchment, with a more detailed study on its headwaters starting shortly.
Image showing Ian Hawkins, workshop tutor, readying to observe Chris High on invertebrate river kick sampling.
Thanks go to Ian Hawkins who delivered the workshop and to Norfolk Flyfishers Club and members who provided the location, facilities and refreshments alongside the river Wensum.
Dennis Willis
Riverflies coordinator for river Wensum
July 26th 2021