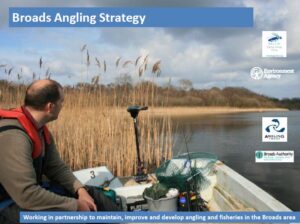 Welcome to the Broads – an angler's paradise 'With its vast network of rivers, dykes, reed-fringed bays and open water, the Broads are one of the United Kingdom's most special and historic fishing areas and a place cherished by anglers from far and wide.
Whether its a bag of pristine roach, quality bream on the feeder, float fishing for rudd or seeking the predatory attention of pike and perch, the Broads have something to offer all anglers, throughout the fishing season.
The Broads area forms Britain's largest and finest wetland and is one of the region's premier tourist attractions. Angling and fisheries play a key role in supporting the rural economy in the Broads, accounting for at least 16 percent of the 7.2 million visitors to the area and contributing in excess of £88 million to the local economy each year.
The full document is available here Broads_Angling_Strategy_V3-June-2013-FINAL1-low-res